mdi can help!
The mdi Sales Team is standing by to help you with your order or questions about our Products. Give mdi a Call Today!
727-835-0648
Office Hours: 7:00 am - 7:00 PM EST M - F
Refrigerant Dryers
Membrane Dryers
Adsorption Dryers
Particulate / Micro / Active Carbon Filters
Cyclone Separators
Condensate Drains
Condensate Treatment
Quality air pays off:
BOGE compressed air treatment
Compressed air is a versatile medium. It is widely used throughout industry and, for example, can be found in workshops and garages where untreated air is acceptable or the specialist industries where the demanding environments of the pharmaceutical and food sectors require absolutely dry, oil-free and often sterile compressed air.
Compressed air users rely on quality air from BOGE wherever the safe and efficient treatment of the compressed air is required. Our compressed air specialists will do their utmost to configure a customized air treatment system to meet any given set of criteria.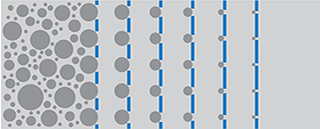 1 cubic foot of untreated ambient air can contain up to 4 million airborne particles as well as 50 – 80% water vapor and oil in the form of unburned hydrocarbons. During the compression process the concentration of these particles increases: at a pressure of 150 psi, for example, an eleven-fold value of 44 million dirt particles is reached. Optimally treated BOGE compressed air is dry, dust-free, oil-free and if required sterile.
The Right Balance: Advantages of Boge Compressed Air Treatment
CAREFUL PLANNING AND ADVICE
When it comes to selecting the right type of air treatment, specialist advice is crucial because an incorrectly dimensioned system can easily generate unnecessary costs in the long run. You can count on the BOGE know-how: a thorough system analysis ensures that the installed air treatment exactly meets the site requirements.
OPTIMAL COST-BENEFIT RATIO
Compressed air treatment is a necessary cost in a compressed air system and so the chosen system should produce an optimal cost-benefit ratio. An oversized or undersized air treatment system is likely to result in unnecessary costs or jeopardize the operating integrity of the system. BOGE's range of air treatment products ensures that there is a cost effective customized solution for every application.
QUALITY DESIGN
The use of high quality materials and a reduced number of wear parts ensures the BOGE air treatment systems are as efficient and reliable as our demanding customers rightfully expect. The BOGE manufacturing process also meets on-going quality standards – from inspection of purchased parts to final inspection and testing of each product. And, when it comes to product development, BOGE ranks among the first for German engineering: time after time we are recognized as trendsetters in the industry thanks to our innovations many of which have Worldwide patents.
The right system for your requirements
Based on your air quality requirements
BOGE will take care of selecting the appropriate air treatment products to provide an optimal solution from initial assessment to system design.
Class
Solid impurities (Max. particle size per m3 ) Max. particle size in µm
Humidity (Max. pressure dewpoint)
ppm Max. oil content
< = 0.1
0.1 < d < = 0.5
0.5 < d < = 1.0
1.0 < d < = 5.0
°C
°F
mg/m3
ppm/w/w
0
Specified by user
1
A/R
100
1
0
< = -70°C
< = -94°F
< = 0.01 mg/m3
< = 0.008 ppm/w/w
2
A/R
100,000
1,000
10
< = -40°C
< = -40°F
< = 0.1 mg/m3
< = 0.08 ppm/w/w
3
A/R
A/R
10,000
500
< = -20°C
< = -4°F
< = 1 mg/m3
< = 0.8 ppm/w/w
4
A/R
A/R
A/R
1,000
< = +3°C
< = +37°F
< = 5 mg/m3
< = 4 ppm/w/w
5
A/R
A/R
A/R
20,000
< = +7°C
< = +45°F
-
-
6
-
-
-
-
< = +10°C
< = +50°F
-
-
Classes 6 and 7 are defined according to the maximum particle size and maximum density.
Class 6: d < = 5 µm and density < = 5 mg/m3
Class 7: d < = 40 µm and density < = 10 mg/m3
Classes 7 to 9 are defined according to their liquid water content.
Class 7: CW < = 5 mg/m3
Class 8: 0,5 g/m3 < CW < = 5 mg/m3
Class 9: 5 g/m3 < CW < = 10 mg/m3
Boge Compressed Air Dryers
This is a modal.
Reveal makes these very easy to summon and dismiss. The close button is simple an anchor with a unicode character icon and a class of close-reveal-modal. Clicking anywhere outside the modal will also dismiss it.
×