mdi can help!
The mdi Sales Team is standing by to help you with your order or questions about our Products. Give mdi a Call Today!
727-835-0648
Office Hours: 7:00 am - 7:00 PM EST M - F
LARGE OVERFLOW
The large overflow is designed to prevent emulsions from impairing the function of the oil/water separator. Oil backup in the filter is thus avoided.
EFFICIENCY
BOGE oil/water separators are available in a number of sizes. They require no energy nor very much maintenance.
SIMPLIFIED SERVICE / NO MESS
Our cartridge based system is lightweight and easy to change making service quick and efficient. This system also allows the exterior of the unit to remain clean and dry without making an oily mess.
UNIQUE ADSORPTION MATERIAL
Condensate separation takes place in the QWIK-PURE without using an activated carbon. Instead, we have opted for a unique filling material that has not only increased performance, but is by far lighter and cleaner than traditional oil/water separators on the market today.
---
Superior Condensate Separation Technology:
Legislation demands that compressor condensate must be treated prior to discharge into a foul water network. In the case of a simple suspension, oil or emulsions can be separated from water by superior condensate separation technology, on site, by using a cost effective BOGE oil/water separator.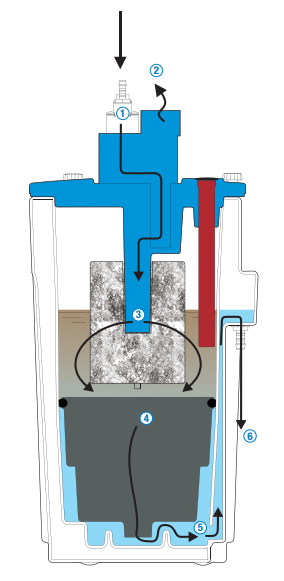 THE OPERATING PRINCIPLE: YOUR GUARANTEE FOR COST-EFFECTIVE CONDENSATE TREATMENT
The oil contaminated condensate flows under pressure into the newly designed pressure relief chamber. (1) Here, the pressure is released without creating turbulence downstream (2) of the condensate inlet. The oil contaminated condensate flowers into the high volume pre-filter (3), which is characterized by its ideal flow pattern from the inside to the outside. Here the remaining oil droplets are bound to the pre-filter. It also deals with any residual floating oil in the upper chamber.
As the pre-treated condensate enters the main cartridge the remaining oil is absorbed and locked into our advanced filter material where it cannot escape (4). The condensate is now fully treated and flows around the lower chamber wall toward the clean water outlet.(5)
The final result is purified water suitable for discharge directly into the sewer system.(6) Thanks to the cartridge technology, filter replacement is both quick and clean; and all without the use of activated carbon.
Type
Compressor Performance
Piston Compressor
Rotary Screw Compressor
Dimensions
Compressor hp
Compressor scfm
Mineral Oils
Synthetic Oils
Mineral Oils
PAO/Diester Oils
Polyglycol/Synthetic
D x H in.
QWIK-PURE 25
25
113
50
50
25
50
50
7.9 x 20.7
QWIK-PURE 50
50
225
100
100
50
100
100
15.2 x 23.4
QWIK-PURE 100
100
450
200
350
100
200
200
18.1 x 24
QWIK-PURE 200
200
900
350
200
350
2 X 200
23.2 x 43.7
QWIK-PURE 350
350
1575
350
2 X 350
2 X 350
28.3 x 46.5
This is a modal.
Reveal makes these very easy to summon and dismiss. The close button is simple an anchor with a unicode character icon and a class of close-reveal-modal. Clicking anywhere outside the modal will also dismiss it.
×